Post by Shadow Fang on Nov 11, 2010 14:59:43 GMT 10
Why am I like this?
[/center][/size]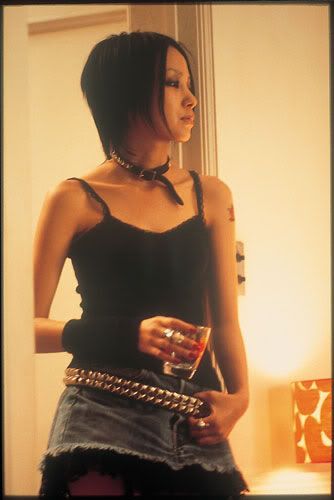 Did You Ever Hear What I Told You?
Did you ever listen to what we played?
Did You Ever let in what the world said?
Did We get this far just to feel your hate?
Did we play to become only pawns in this game?
How Blind Can You Be Don't You See?
You Choose the long road but we'll be waiting
BYE BYE BEAUTIFUL
Name:
Shadow Fang(Birth name~Kumori)
Nickname:
Kumo, Kumei, Ku, Kumo-chan(only by old pack mates)
Fang
Age:
appears nineteen, really in mid-late twenties
Gender:
female
Why was I chosen to be a protector?
[/center][/size]
Taint:
darkness manipulation
I Can't keep a secret like this, forever. But how can't I?
[/center][/size]
Home Town:
somewhere in Siberia, Russia
Current Town / City:
n/a she's a loner
Job:
n/a
Hobbies:
hunting
I' am not human, where am I supposed to go?
[/center][/size]
Eye Colour:
dark brown, almost black
Hair Colour:
black
Hair Length:
short
Coat Colour:
raven black
Height:
5 ft 10 in
Build:
slender but with good muscle
Style:
gothic
Appearance:
Fang was born in a litter of pups that all turned out looking differently. She held an asian gene as a dominant gene, making her look, well, oriental. She has made herself to be in top shape 100% of the time, knowing occasionally her old pack comes after her. She is ready to shift into her wolf-form at any given time, even if this means loosing her clothing.
Personality:
Fang is a burning fire inside an icy shell. It takes awhile to warm up to her, but once you earn her trust, she will stay loyal to you like a true wolf. She gives the cold shoulder to most strangers because of the hard life she has lead. She has known very few people she can trust throughout her life.
Loves:
running, hunting, eating, sleeping, fighting
Hates:
boastful beings, smelly things, long-since-dead carcasses, 'fake' love, whores
Favourites:
eating, sleeping, fighting
Dreams:
Beneath that macabre and cold shell, Fang just really wants to settle down with mate and raise herself a few pups. Her ex-wolf pack was a pack of werewolves where the females could reproduce. The gene got copied and eventually came to the point where all the females within the pack could reproduce. Fang has had three pups in the past, but they were kidnapped from her. She yearns to find them, to at least know if they are alive or dead.
How am I susposed to see the ones I love now, without showing them what I am?
[/center][/size]
Nature:
firebrand
Past:
~I'll sum this up as best as I can~
Fang was born to a litter of four pups, she being the second youngest. Her oldest sister(Silver Fang) was the bully. The runt of the litter was a poor little wolf named Luna. She was killed by Silver Fang though to assert her dominance over the litter. Shadow Fang was the subject for it most of the time.
Things went from bad to worse. Her dad went off on a suicidal hunting trip-the pack set him up, he was unaware.- Little Fang was worried for her father so she went off to find him. She found him dead. She went back to the pack-grounds to find the area in complete chaos. Death was going like mad. That was when she saw the alpha strike down her mother.
Something went horribly wrong. So wrong that Fang can't remember what happened after to the point of stumbling along a new pack. The pack hapily accepted her, the alpha female being an old friend of Fang's mother.
Fang found herself a mate. She had three adorable pups with him. Unfortunetly her mate went off to spy on another pack. She never heard from him again. Her pups were kidnapped as well. Fang broke away, unable to take the misery. She currently roams the lands, looking for a new mate.
Family:
MOTHER/Silver Feather
FATHER/Black Star
FOSTER MA/Silver Star
SISTER/Silver Fang
BROTHER/Black Fang
Life is hard and unfair. But was it ever said that it was supposed to be easy?
[/size][/center]
A b o u t Y o u
[/b][/i][/size]
Name: vei
Character(s) so far: reveka
Twilight Team: VOLTURI =D
Website:
z7.invisionfree.com/Forgers_Den/index.php?
How Did You Hear About Us: cant recall