Post by Reveka Chillingworth on Oct 11, 2010 11:22:27 GMT 10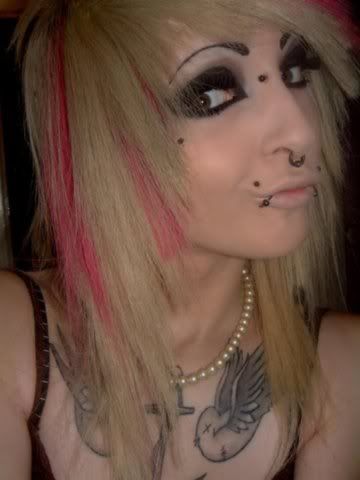 "I'm not a bad man
even though i do bad things
very bad things, such horrible things
but it's not exactly what it seems
Ah hell...It's exactly as it seems!
I didn't choose to be this way, I was chosen to be like this, but I can choose what else I am.
[/center] [/size]
Name:
Reveka Chillingworth
Nickname:
Rev
Changed Date:
November 11th 1943
Age When Changed:
Nineteen
Gender:
Female
Species:
Crimson Vampire
Taint:
Acid Spit: Reveka can spit acid from her mouth
Did I ask to be this life form? No. Did I ask to act this way? Yes. Only I can change who and how I act.
[/size] [/center]
Home Town:
Berlin, Germany
Current Town / City:
has none, she just wanders
Hobbies:
x running
x exploring the land
x feeding off of humans
Your only a monster, if you choose to be....
[/center][/size]
Eye Colour:
crimson
Hair Colour:
natural blonde, but often dyes it many colors
Hair Length:
medium-long
Height:
5 ft 7 in
Build:
thin but has some decent muscle on her
Appearance:
Many would say that Reveka looks intimidating with her insane spiked hair and many piercings. It's all just a look though. She has medium-long blond hair and crimson eyes. Her skin is rather pale for the simply fact she doesn't go out very much in the day. She will often wear a lot of cosmos but for the simple fact, it's like a 'tough' mask for her.
Personality:
Reveka is an easy-going girl. It takes a lot to get this girl riled up about something. She sees herself as a queen. Well, in her own world at least. Reveka is very imaginative and hates being told her imaginations will never come true. She can't stand hypocrites-and homophobes-, seeing them as the lowest life form on earth. she doesn't mind were-creatures, having been friends with a few in the past.
Loves:
x Human Blood
x Rave parties
x Metal Music
Hates:
x Animal Blood
x Medical Blood
x Sunlight
x Garlic
Favourites:
x Her hair
x she loves rats
Dreams:
Reveka isn't too sure what she wants in the long run. She's wondered about getting a mate in the past, but has never really been too sure about it. She is confused about her sexuality, knowing she's attracted to men only physically, but mentally her mind likes girls and boys. Reveka really doesn't want to have children, knowing she'll never be mentally ready for a child.
I'm not going to be like the others...
[/center][/size]
Nature:
Down-To-Earth
Past:
Reveka was born to a prostitute mother. Her mother never wanted the child, but couldn't bring herself to abortion the baby while it was inside of her. Rather, she sold off Reveka to a doctor Nazi. The Nazi did all sorts of weird experiments to her and made her go through hell on earth.
Reveka was offered a chance to escape the cruel doctor. A vampire-she didn't know he was one- helped her escape the man. The two travelled together until Reveka found him drinking from someone. Reveka wasn't afraid, rather intrigued. She asked to be changed herself and thus it occured. Reveka separated from him after learning the 'basics' of being a vampire. She now wanders all around the world, just waiting for something interesting to pop up in her life.
Family:
I' am going to change how people look to us. We aren't going to be the same as past stories, while ever I 'am around...
[/center] [/size]
A b o u t Y o u
[/b][/i][/size]
Name: Vei
Character(s) so far: only Rev
Twilight Team: Volturi =D
Website:
s15.invisionfree.com/Metal_Pentagrams/index.php
How Did You Hear About Us: can't recall
Read more:
twilightluvafterdawn.proboards.com/index.cgi?board=characterapptemplates&action=display&thread=9#ixzz120ZmP6uQ