Post by Rachel Howards on Oct 13, 2010 17:57:40 GMT 10
Life is so light and unpredictable. You can have it one minuted and none the next.
That's why you need a protector of your heart.
[/center][/size]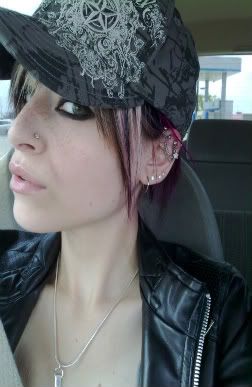 Name:
Rachel Jay Howards
Nickname:
Rache / Popstar
Age:
18
Gender:
Female
Who holds your heart?
[/center] [/size]
Home Town:
Sydney Australia
Current Town / City:
Washington State America
Job:


Singer

Rockstar

Popstar

Model

Latest Job

Vampire & Werewolf Hunter


Hobbies:


Singing

Acting

Modeling

Dancing

Shopping

Preforming

Who's heart have you broken?
[/center][/size]
Eye Colour:
Hazel
Hair Colour:
Light Brown -Normally coloured hot pink and black-
Hair Length:
Short - Long
Skin Colour:
Pale with a Light Tanned
Height:
5'8
Build:
Light
Style:
Punk / Sexy / Beach Babe
History will repeat if nothing was learnt.
[/center][/size]
Appearance:
Rachel has a light frame of 5'8 but she isn't either skinny or fat. Shes just right.
Her skin is rather pale but has the lightest tone of tan that you may ever fine anywhere. For an Australian girl, she isn't the one-hundred [resent tanned type.
Thought most would never know it because of colouring her hair hot pink and black so often, Rachel's hair is a light brown that can change in size very quickly. from month to month. At times she likes it short and other times she loves it hang past her shoulders and sometimes past the middle of her back.
Her eyes are hazel, but at times and in different light they appear to be light green.
Seems as image is very importat to her, Rachel is hardly ever seen without eyeliner or mascara.
Rachel has several piercings over her body - manly in her ears- but most are only for show. Really she only likes her nose piercing.
Personality:
Rache is the typical teenager type.
To some, shes sweet and friends, to others she can be rude and moody, but none of it has been added to been so famous.
Its always been hard for her to make friends, because of how mature she acts and with how much time she puts into her music, but it doesn't really bother Rachel not having that many friends anyway.
She likes been a loner.
School is one of the things Rachel has hated most all of her life. She hated the idea of maths and all the other subjects apart from music when she was younger, until she dropped out at a young age, becoming rebellious to most things and still is to some point.
She is very independent to herself, traveling over Australia when she was younger and then over seas a little older, by herself and without her parents.
Her mother she loves, but when it comes to her father, she would rather be back at school, than to be with him. She can't stand him and she isn't really the only one.
Music is Rachel's life!! She writes songs of how she feels and its basically her second nature.
She sings and dressed how she feels and acts. You wont
ever
see her in a pink cutie pie dress!
Punk and sexy is her thing!
Loves:



Music


Punk


Shopping


Singing


Acting


Modeling


Fashion


Horses


Motorbikes


Dancing


Preforming

Hates:


School


Country Life


Teachers


Books

Favourites:


Music : Punk / Hardcore / Rock / Hip Hop / Pop


Colour: Hot Pink / Black / White / Purple / Maroon


Hobby: Singing


Singer: Lady Gaga / Rihanna / Ke$ha


Song: Rockstar - Rihanna // Hook Me Up - The Veronicas

Dreams:
The dreams of Rachel Howards are simple.
Become a famous singer for her country Australia and have an amazing and caring boyfriend!
In order to live, first we must risk.
[/center][/size]
Nature:
Show Off
Past:
From a very, very young age, Rachel loved music and listened to it from dawn to dusk, but it wasn't music that most under age of five year olds would listen to, but pop and rock.
At the age of six, she started writing her own songs. Though the songs that she wrote were only very short, they were catchy to those that read them.
From eight years old she taught herself to play an electronic guitar and within a year she was playing it well.
Never did Rachel like school with the work, bossy teachers and reading, nor did she really have any friends because mainly of how she acted so differently and more mature than most of the other kids her age.
She begged her parents over and over to change schools or forget school all together.
At thirteen, she started skipping school regularly to go and play music at parties and in public. It took a year before Rachel's parents found out and then decided to let her do what she liked and with it, they took her out of school like she had wanted for so long.
With leaving school, Rachel only focused on music and finally when she was fifteen, she got offered her first big break, to sing live at a concert in Sydney Australia, her home town. From that day Rachel would be oftenly asked to preform on big TV shows, clubs and other concerts around Australia.
Within the past few years, Rachel has become so popular and well known that even the paparazzi have started to follow her.
It seemed to be the more she had to do with her music, the less her parents had to do with her. But Rachel been Rachel, she didn't really care, because it was her dream and life!
In the past year Rachel has been travelling over the world singing, acting and as of late moddelling. She has only just moved into Seattle America to start recording her first CD.
It was only when Rachel went to see what other towns were are and near where she lived that she found a market near Forks, and heard the word of werewolves and vampires been real. That was when she became a Werewolf and Vampire Hunter.
Family:
[Mother - Natasha] [Father - Jim]
Life is Risk
[/center][/size]
A b o u t Y o u
[/b][/i][/size]
Name: Sky
Character(s) so far: Jacob Black and Rachel Howards
Twilight Team: Jacob!
Website:
How Did You Hear About Us: