Post by Alex John Hart on Feb 18, 2011 21:21:25 GMT 10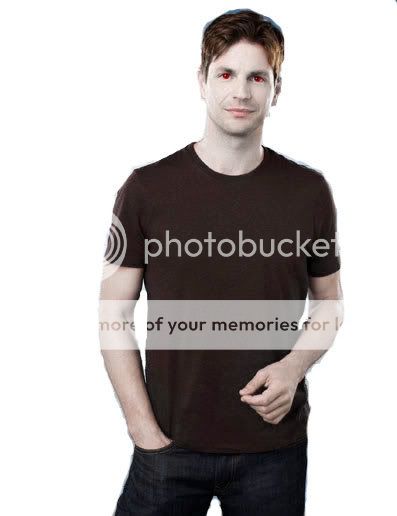 And I'm only human
I said I'm only human
I'm only human
I said I'm only human
I'm only human
I said I'm only human
I'm human, I'm human
I didn't choose to be this way, I was chosen to be like this, but I can choose what else I am.
[/center] [/size]
Name:
Alexander John Hart
Nickname:
Alex
Changed Date:
1894
Age When Changed:
29
Gender:
Male
Species:
Vampire
Trait:
Alex has a sensory/tracking type ability that allows him to sense out vampires with gifts and categorize their abilities. Alex's gift is like a radar & he is the center, he is constantly sending out a supersonic wave from his body that is adjusted to the frequency of those of a vampire with a special ability.
When the super sonic wave hits a vampire with the ability, the wave repels off of them and returns to Alex Once he is hit with that wave he is able to get the flavor of that ability & is able to detect that vampire. Once Alex has that flavor it's there, he doesn't loose it & if they are within 1000 meters of Alex he is able to pin point their location and know where they are as long as they are within 1000 meters of him. and find them.
apart of alex's ability allows him to sense humans who are talented, he wouldn't know what their ability would be until after the change. Some of the holes in Alex's ability is he cannot sense COTM & Shape shifters and he cannot turn his ability off, He can't locate Mental shields either even if he meets them he wont be able to track them. If one does come within his range he will sense something is off, but thats it.
~ weaknesses :
1, Cannot Sense Werewolves
2. Cannot sense Shape shifters
3. Cannot sense mental Shields completely
4. Cannot turn this ability off.
5. Alex constantly has a bad taste in his mouth
~ strength :
1. Alex can sense gifted vampires within 1000 meters
2. Alex can sense his children & those who share his venom
3. Alex gets a slight sensation from humans who would have gifts as vampires
Did I ask to be this life form? No. Did I ask to act this way? Yes. Only I can change who and how I act.
[/size] [/center]
Home Town:
Charlottetown ,Prince Edward Island, Canada
Current Town / City:
Forks
Hobbies:
Reading, men, spying on his children
Your only a monster, if you choose to be....
[/center][/size]
Eye Colour:
red
Hair Colour:
light brown
Hair Length:
short
Height:
5'8
Build:
80 pounds
Appearance:
Alex wears skin tight clothing reguardless the fact he is a teacher he has pale skin and red eyes like all vampires he can mostly be described as a sex god, alex often wears sunglasses and claims their medically prescribed.
Personality:
Before Alex met Jacob he was a kind & thoughtful man with high moral values. After meeting Jacob Alex was forced to throw away his morals & Ideals of humanity in order to survive. Alex became cold and ruthless, he placed his needs ahead of the needs of others without hesitation.
Alex is an amazing actor he fools everyone, to the humans he appears to be very refined & strict in raising his students & his children. He rarely looses his temper and is defined as Elegance. Alex. Alex is cynical on humanity beliving that the humans will end up destroying themselves over foolish & trivial matters. He claims not to have values on the lives of humans, but this is not true the children he sired have all been saved from a terrible life in one way or another apart from Summer.
Alex is very noble when it comes to doing good deeds he will often do something nice for his children in secret & if he is caught he will often deny it and find some reason to make it he had something to gain out of it.
Alex is very protective of his twin daughters Laura & Whitney and will kill anyone who dares to hurt his daughter. He has in the past told his daughters he would kill anyone who tried to bed them before his permission.
Alex is promiscous, he is cynical on marrage stating it's a legal form of slavery to trap men & women into only sleeping with one partner is cruel. Alex is very perverted. He is also very possessive as well, he does not take kindly to anyone who touches his children or his mate if he ever finds one.
Alex Craves to have a big family, he is happy with the children he has sired & his daughters, but he does intend on siring more children along the line. He is very fatherly and will often punish his children if they misbehave. In some ways Alex is a typical father too, he often embarrasses his daughters at school by making sure they are behaving. He dotes on them a lot, he also makes sure his daughters eat human food as well to make sure they get the vitamins they hold.
Deep down Alex is a kind and loving man, he cares & he suffers from the pain he went through & the pain he has inflicted on others. Right now, however, the real Alex is just sleeping away and will return to his kind and loving self once he meets the right man.
Loves:
My children
My foster children
blood
men
sex
Hates:
Humanity
those who threaten my children
sunny weather
justin beiber
Favourites:
human blood, virgins to be more specific
Dreams:
Alex dreams of having a big family to call his own and he dreams of finding himself a mate, he also has other dreams, but those are secret for now
I'm not going to be like the others...
[/center][/size]
Nature:
alex is not good, but he is not completely evil either despite how hard he trys to supress it he can be seen as an ok kind of guy.
Past:
Alexander John Hart was born on March 15th 1865 on Prince Edward Island in Canada. Alex's father owned a general store while his mother assisted in the store along with being a house wife. Alex had a uneventful life until the age of 14 when the Martha & Jacob Lavender Moved into town along with their 15 year old daughter Jane. Alex and Jane had an interesting friendship, where Jane had a knack for getting Alex into trouble.
At the age of 15 Alex began to court Jane, although she resisted his advances at first the two began dating. They would go for supervised walks, drink Ice tea on the pourch on a warm summer day. Alex would of course sneak in a kiss or two, but that was it. When the time came Alex & Jane graduated from school and both went to college together in the next town. The two continued to date & after finishing college Alex Proposed to Jane at the age of 19. Jane accepted on the condition that they wait three years.
After College things became difficult when Jane moved to New York city to study medicine & Alex moved to Charlottetown rather than return home. With Alex teaching license he found himself a job in public school. Things were difficult between Alex & Jane, but the two kept in touch through letters. After two years of teaching Alex quit his job and returned to his hometown of Kensington. During the year Alex met a strange pale man named Jacob for some reason Jacob seemed very interested in Alex, but after their discussion Jacob left promising they would meet again someday.
The Year had finally passed and Jane returned home as a Nurse. Jane & Alex were married immediantly inviting all their friends and family. Alex & Jane had to delay their honey moon because Jane was due to start her job as a nurse at the hospital. Alex & Jane tried for a child for four years until the age of twenty six where Jane gave birth to Alex's son John.
Alex enjoyed being a father, he loved his son John and did everything he could to give his son a better life. Sadly at the age of two little John Hart passed away from scarlet fever. Alex & Jane were distraught from the loss of their son. Jane had gone through depression and refused to leave the bed while Alex continued on, pushing himself to provide for his wife.
It was two months after John's death that Alex met Jacob again, only this time Jacob was no longer friendly. Jacob showed himself to be a vampire, He abducted Alex and took him away for an entire year. During the year Alex was beaten and raped by Jacob & often left alone locked inside a windowless room for the longest of time, Alex soon developed Stockholm syndrome towards Jacob. Alex soon became "willing" to Jacob's will becoming his slave, Jacob Eventually turned Alex biting him in several locations.
Alex went through the change and became a newborn vampire at the age of 29. Alex spent two years under Jacob's influence learning to disreguard human life, to think of humanity as nothing, but food bags. One day Jacob brought Alex a gift, he brought Jane to Alex. Jane looked to have aged 10 years and her clothing was filthy and in tatters. Alex learned Jacob had captured Jane as well and kept her in the next room with her mouth sewen shut to stop her from yelling.
Alex was given an order from jacob to kill Jane. Alex hesitated until Jacob cut Jane's neck, Alex lost control of his thirst and fed off of his wife drianing her dry. Alex felt remorse for killing his wife, when Jacob saw this he decided that Alex needed to sever all ties he had connected to his human life so Jacob took Alex to his family & friends and made Alex kill his entire family & closest friends killing even his in laws.
After Alex murdered his entire family, he managed to distance himself from humanity convincing himself that his heart was his last victim. Alex left Prince Edward island forever and went to New York City. Alex became a tutor to the Scullys a noble family. he met a teenage girl Named Joan Scully, a young lady who was being beaten by her father. Alex did nothing for the longest time until he witnessed Joan being slapped by her father for making a small mistake.
Alex lost control he murdered Joan's father and mother in front of her scarying her, it was there Alex Turned Joan Scully, He took care of her as a newborn raising her. Alex told Joan he would take care of her & protect her, but not to expect kindness or love from him. Alex helped joan through the newborn years and used her to give him her family's Estate.
Alex showed Joan the world as he adopted her to be his daughter. The two left new york three years later and traveled around to Italy when Alex & Joan came across two teenage brothers who lived on the street Samual & Zackery Salvatore. Alex saw that the brothers were barely surviving on the streets. He wanted to make some company for himself & maybe even a mate for Joan turned the brothers hoping for joan to find herself a mate.
Joan eventually turned to Zackery and fell for him. Alex found himself becoming a father to the children. Alex & his family traveled found and moved to England. where they moved around from town to town until 1980 where Alex & his family moved to Sydney, Australia. The family seemed to be very much together and loved each other Alex of course kept his distance from his children.
Alex Continued to pose as a teacher and with each of his adopted children well past the newborn phase sent them all to high school. Alex taught Engish to the class they stayed in sydney until 1986 and afterwards Alex & his coven moved to Queensland in the town of Brisbane. where nothing uneventful happened. Until Samual met Summer Tucker A shy teenager, Samual wanted Summer more than anything and pleeded with Alex to take her.
Despite claiming to not care about his children wants Alex told his coven to pack their things and on the night of their depature Alex Kidnapped Summer and turned her while they moved. Leaving Australia Alex watched as all of his children were now happy and despite having sired his children. Alex realized he still missed his son John. He sought to fill the void in his heart by having blood children. Alex had no idea how it would work if he could even get a woman knocked up so in 1992 they returned to New York City to live at the old Scully Estate. After renovating the Estate The family settled there. Alex looked for an attractive female even though he had never found females sexually attractive anymore Alex found Miranda Frost a woman studying to be a doctor.
Alex seduced Miranda and captured her when her guard was lowered. Alex held her captive and forced himself on her not feeling remorse for his actions. He waited and to his suprise he learned that Miranda was indeed carrying, but nothing could prepare Alex for what was coming. Alex & his coven watched Miranda, how she suffered in agony her body breaking and then on December 25th at 1 Am Miranda two hybrid children burst out of her. Alex was over joyed for the first time in his immortality to have two healthy baby girls. He named them Whitney & Laura. On the night of their birth Alex made a Law among the his sired children.
That Whitney & Laura will be protected at all cost. The coven were happy to agree & since they already felt a sense of family. Over the years the family moved about & Alex doted on his twin daughters making sure they had whatever they wanted. For a while the coven returned to Canada where Alex showed his Large family his homeland and was very suprise how much had change. Now that his daughters were 17 Alex & the Hart coven moved to forks
Family:
---Human Family----
Jane Hart [Wife/Deceased/28/Human]
John Hart [Son/Deceased/2/human]
Miranda Frost [one night stand/deceased/23/human]
Laura Hart [Daughter/Alive/17/Vampire hybrid]
Whitney Hart [Daughter/Alive/17 Vampire hybrid]
---Coven family---
Joan Hart [Sired Daughter/Alive/18/Vampire]
Zackery Hart [Sired Son/Alive/18/vampire]
Sam Hart [Sired Son/Alive/16/Vampire]
Summer Hart [Sired Daughter/alive/16/Vampire]
I' am going to change how people look to us. We aren't going to be the same as past stories, while ever I 'am around...
[/center] [/size]
A b o u t Y o u
[/b][/i][/size]
Name: jessie,
Character(s) so far: jessie, vanille
Twilight Team: team emmett
Website:http://www.thetwilightdiaries.com/
How Did You Hear About Us: member